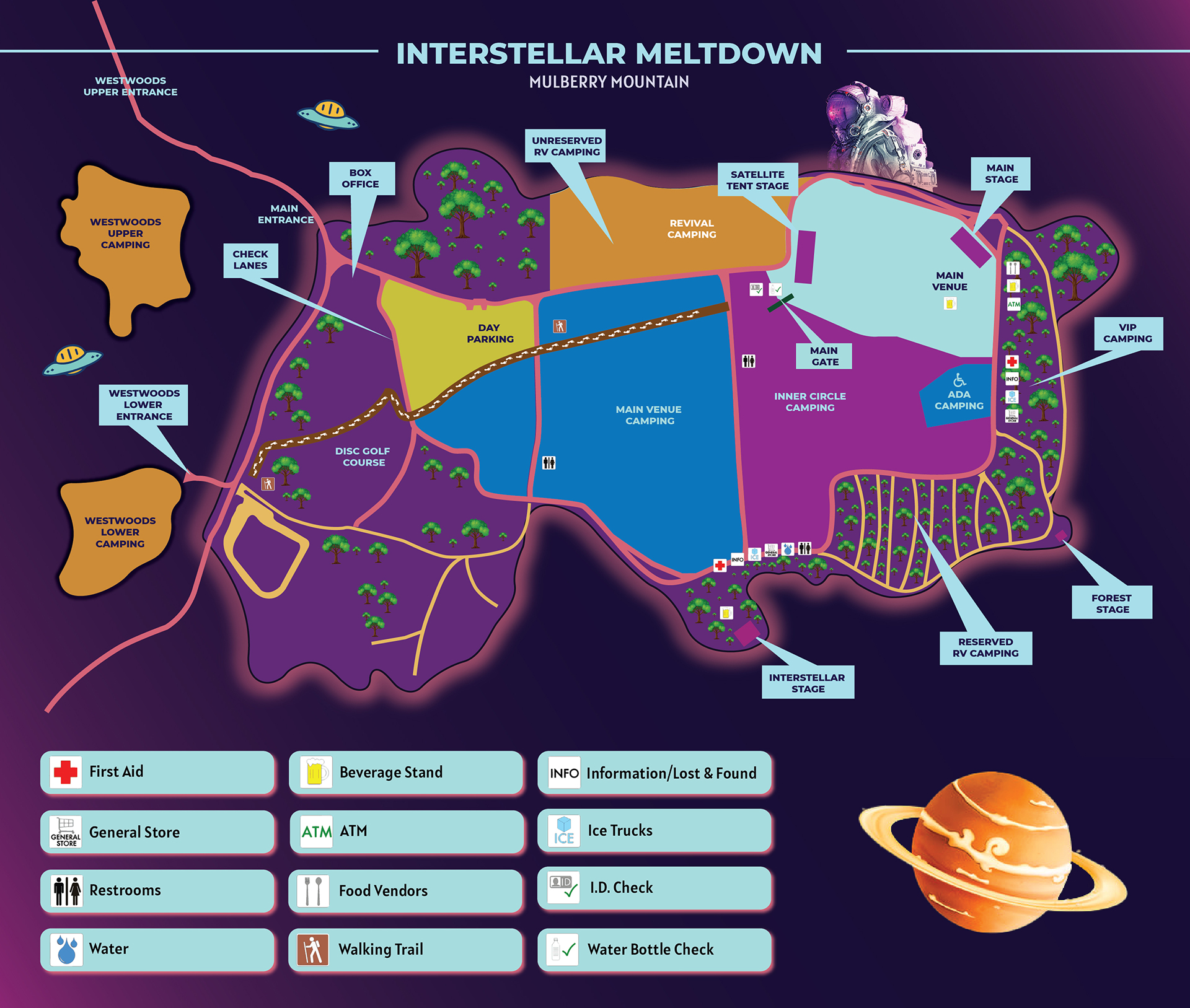 HOW DO I GET THERE?
-From the north – From Fayetteville, drive east on AR Hwy 16 to AR Hwy 23. Turn south on AR Hwy 23 and drive 8 miles south. Mulberry Mountain will be on your left.
-From the south – From Fort Smith, drive east on I-40 to AR Hwy 23. Take the "Ozark" exit (exit #35) to AR Hwy 23 north. Drive north on AR Hwy 23 for 16 miles. The Mulberry Mountain will be on your right.
Upon your initial arrival to the festival, you are required to first visit our Check Lanes to obtain your wristbands and camping stickers. Please make sure to have your ticket/s and ID ready. You will be directed through the entire process, it's super easy. Visit our ticketing page for Box Office hours and locations. Please make sure to check out what is and isn't allowed before arriving (in the rules tab). 
RULES AND REGULATIONS
NO PETS ALLOWED ANYWHERE ON THE FESTIVAL GROUNDS.
Unauthorized vending is not permitted.
NO illegal drugs, weapons, fireworks, Chinese (paper) lanterns, or NITROUS TANKS are allowed on the festival grounds. Violators will be ejected from the facility and subject to prosecution under local, state, and federal laws. We're serious folks.
We reserve the right to refuse entry to anyone or any items we feel will be harmful at the festival.
Underage drinking is strictly prohibited.
Park only in designated areas. If your vehicle is found in an unauthorized area it will be towed to the on site tow lot and a fee will be assessed.
NO OPEN FIRES ALLOWED IN THE CAMPGROUNDS.
ABSOLUTELY NO GLASS
NO LASER POINTERS
ABSOLUTELY NO CHINESE (PAPER) LANTERNS
Whether you plan to use/launch them at the festival or not, they will be confiscated.
Totem poles (with no metal) are allowed, however we ask that you stay polite and consider your fellow festival goers in regards to size.
NO ATVs, golf carts, scooters, or other gas/electric powered recreational vehicles.
Respect the environment. Please use trash and recycling bags provided by the festival.
Listen to and respect all staff members, whether it is a parking attendant or a police officer. Your safety and well-being is our #1 concern.
Finally the most important rule of all: The golden rule. Please be respectful of your neighbors and consider their comfort. Would you want someone banging a drum next to your tent at 5am? Make an effort to introduce yourself if at all possible. Follow this simple guideline and you will probably end up with more friends than you started with which is never a bad thing.
All vehicles and persons are subject to search and may be re-searched at any time while on the festival grounds.
All patrons consent to the Search and Re-Search of persons and property at any time while on the Festival grounds.
WEATHER
What is weather like in early October?
Very pleasant. Average temperatures in mid-June are:
Highs: Mid-70s
Lows: Mid-60s
The threat of severe weather is always a concern in Arkansas; however, October is generally a lovely time for outdoor activities. 
CAMPING, CAMPSITES AND ENTRY TIMES
How big are the campsites and how many people can arrive in one vehicle?
The campsites are approximately 10×40 ft spaces. We highly encourage no more than 6 people in one vehicle.
What will we be allowed to bring into the campgrounds?
You can bring your own food and beverage into the camp ground areas. No metal kegs. Plastic mini-kegs are okay.
Absolutely NO GLASS BOTTLES. This policy will be strictly enforced.
PLEASE follow these instructions if you are planning on using a grill. You can use gas/propane fuel sources or charcoal, but scavenging for wood on site will NOT be permitted. Only small propane tanks will be allowed. The fire must be entirely contained and off the ground. Please keep the fires as small as possible and extinguish them as soon as you are finished. When you are done cooking with charcoal, put it out with water before going into the show, going to sleep or leaving your camp, rather than letting it burn out over time. In any case, DO NOT DUMP COALS ON THE GROUND or in the trash until they are entirely cool. After the coals are COMPLETELY DEAD, dispose of them properly.
Will bands be allowed to play in the camping area if not affiliated with the festival?
Acoustic music will be allowed. No amplifiers please! We ask that you please be respectful of your neighbors.
Are we allowed to bring gas powered generators?
Yes, but only small portable generators 1.5KW or less.
Is there cell phone service available?
It depends on your provider. AT&T: yes. Verizon: yes. Sprint: meh. T-Mobile: no dice.
How far is the concert venue from the camping areas?
All campgrounds are within walking distance of the concert field.
What time can I get in and setup camp?
In a nutshell: You cannot enter the festival, or any part of the festival, before your listed gate time. You cannot come early and "just set up camp for the night." If you arrive before your gate time, you will be turned around.
CAMPGROUND AMENTITIES
What will you be providing at the campgrounds?
There will be restrooms, hand wash stations, potable water, general stores with sundries (personal hygiene products, batteries, film, disposable cameras, ice, soda, etc.), showers for purchase, and an assortment of vendors will be selling a variety of reasonably priced foods, beverages and snacks. There will be ATM's, but we still recommend that you bring enough cash for your stay to avoid long lines or waiting for the machine to be serviced. Please bring enough money for any additional expenses you may have.
RE-ENTRY
Can we leave the festival grounds and re-enter?
Yes, but you will need to go through the main entrance and vehicle checkpoint each time you leave and return. In order to keep the driving lanes open for those that need or wish to leave, it is important that everyone keeps their camping gear close to their vehicles and not in the driving lanes. Due to concerns for the safety of our patrons, the festival organizers may restrict traffic to a defined period during daylight hours. It is strongly encouraged that you stay on site for the duration of the festival.. so you don't miss out on any of the good times! 
EMERGENCY ASSISTANCE
What should I do if I need emergency assistance (medical, police, towing, locksmith, etc.)?
There will be 24 hour security, access to a locksmith and EMT's. If you need emergency medical or police attention, contact the nearest security official or go to one of the on-site information or medical tents. You may also locate a staff member or volunteer for assistance.
LOST AND FOUND
Where should I go if I lose my keys, my wallet or my friends?
Lost and found will be located at the information tents. If you lose something, or someone, check there. If it or they are not there the first time, check again later. If you find something that needs to be returned to its owner, please drop it off at an information tent. It is a good idea to bring an extra set of keys. Obtain your key code before you leave home and bring it with you. This will cut down on the time it takes for the locksmith to duplicate your key if you lose it.
RVs
Will RVs be allowed?
RVs will be allowed to access campsites in the designated RV Campgrounds. An RV Unreserved Campground has been established for general RV camping/parking. Please check out our tickets page for more information regarding RV passes and entry times.
Will there be any hookups?
RV Reserved Campsites have hookups.
Do we have to reserve a spot?
Yes. In order to bring an RV into the festival campsites, you will need to purchase the correct pass. 
RV Campgrounds:
RV Reserved Campsites (Hookups standard, additional support vehicle parking) 
VIP RV Reservations (NO HOOKUPS)
RV Unreserved Campsite (NO HOOKUPS)
ADA ACCESSIBILITY PARKING/CAMPING
What kind of disability facilities will you be providing?
There will be a designated parking/camping area for people with special accessibility needs. You must have an official ADA (Americans with Disabilities Act) parking placard or plate for your vehicle if you need to use this area. There will also be accessible restroom facilities. There are no stairs or other barriers to entering the concert grounds, so they will be entirely accessible.
FESTIVAL AREAS (STAGES, MIDWAY, ETC.)
What can I bring into the show?
Backpacks, purses, lawn chairs, water bottles, factory sealed water, small snacks, and empty camelbacks are allowed into the concert grounds. All entries will need to go through physical search for unsafe items or items not allowed.
What is the taping policy going to be?
Audio recording is permitted. Video recording is NOT allowed.
Will cameras be allowed in the concert grounds?
Phone cameras, disposable cameras and point-and-shoot cameras are allowed in the concert grounds.
Professional cameras with interchangeable lenses are NOT allowed.
Will chairs be allowed in the concert area?
Yes. All chairs must be set up behind the sound board.
TICKETING POLICIES, MISCELLANEOUS QUESTIONS
ALL SALES ARE FINAL.  NO REFUNDS or EXCHANGES for ANY REASON.
Can I bring my kids? Do they have to pay?
Yes and Yes. All ages, including children of any age, require a paid admission ticket.
Can you tell me how I can contact Interstellar Meltdown ticketing crew to check the status of my ticket, or ask any other related questions…?
Please email info@interstellarmeltdown.com
What types of vendors will be on hand? Will they be reasonably priced?
There will be a variety of vendors in the concert venue and the campground that will provide a variety of interesting, diverse, and reasonably priced food. Vendors in the campground will be providing breakfast, lunch, dinner and late night snacks. The general store will also sell snacks and beverages in addition to sundry items.
Can you send me info on becoming a vendor at Interstellar Meltdown?
Yes. Please visit the Vendor Info section of this website.
What is the security going to be like at Interstellar Meltdown?
Event security will be located throughout the site for the entire duration of the event. If you have an EMERGENCY, find a staff person with a radio, go to an information tent, medical tent, or tell one of the security personnel.
When will a performance schedule be available?
The stage schedule is released a few weeks prior to the festival. Please join the mailing list to receive updates.
How do I contact the festival with questions, etc.?
By Email: info@interstellarmeltdown.com
All emails are answered in the order in which they are received.